SELECT FOR PRICES
Testimonials
We have used CSI a number of times for cleaning our house. It is great to have them come in, clean the house and leave it smelling fresh and clean. We get a good clean done about twice a year and will keep on doing it.
- Emily -Newtown
Power Washing
Leave a comment
Price/Cost
Power washing driveway/decking/patio
15sq/mtr  €59
For other options let us know the approx size of the area you require to be power washed and we can give you a quotation.
Alternatively we can arrange a call out to assess your requirements.
Areas covered: Wicklow, Bray, Arklow, Greystones, Dublin and Wexford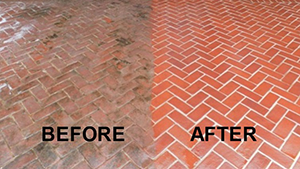 Why Use Us For Your Power Washing Needs?
If you are looking for a professional quality power washing company to restore your driveway, patio or decking to it's former glory then look no further. CSI use state of the art techniques and power washing equipment. Our power washing technicians are fully trained and experienced in all aspects of using the equipment used in power washing. Whether its a patio, a driveway or a decking that requires our pressure washer cleaning services you can be assured that we will meet your  washing requirements to the high standards that you expect and demand.
CSI will find the perfect power washing application for your area.
Our Pressure Washing Equipment
The equipment that our power washing technicians will use during their power washing tasks is top of the range. The petrol driven power washer that we use has the capability to produce 4000psi of pressure. That's over 275bar!!!! For ensuring that a patio or a driveway is power washed evenly, we use a unit that is especially designed for power washing flat surfaces. It power washes an area of approx 500mm at any one time and uses a special rotary head that contains a serious of spray nozzles. During pressure cleaning, because of this design the majority of the water is contained within as opposed to normal power washing methods where water is disbursed around the area causing a nuisance. If we require the use of power washer detergents to clean your driveway or patio, we only use eco-friendly detergents that do not contain harsh chemicals and are specially designed to be used for power washing. Therefore they do not harm our environment. With using this specially designed equipment our power cleaning technicians can guarantee the best results for your patio, decking or driveway.

CSI will perform power washing in Wicklow, Bray,Arklow, Greystones, Dublin and Wexford.
Advantages Of Power Washing Your Decking, Driveway or Patio
Your driveway is the first area of your house a visitor will notice. As we know first impressions last so a good power wash will enhance your driveway.
Some of the most neglected areas of a home include the driveway to the front and a patio or decking to the back. As a proud home owner you should have these areas power washed regularly.
Don't put your insurance at risk by ignoring power washing the areas around your home and creating a hazardous environment that could lead to an accident and an insurance claim.
Unsightly stains and marks on your driveway or patio can be easily removed with a good power washer.
If you are selling or renting your property a visit from one of our power washing technicians will greatly improve the chances of you receiving maximum prices.
Some harmful moulds and bacteria's can be carried by bird droppings or insects and  pressure cleaning will reduce the risk from such potentials.
The lifespan of your decking, driveway or patio can be greatly increased with regular power washing.
Get rid of years of wear and tear from your driveway easily by contacting our pressure washing technicians. They can make your tarmac or concrete surface of your driveway sparkle by washing away stubborn stains. Moss and algae will be power washed from your driveway by the use of specialised equipment and/or solutions.
Patios
Patios that are professionally constructed can look stunning through the array of colours and designs often used. But without regular pressure washing the beauty can be easily taken away. If no maintenance is not performed on your patio, unsightly mosses and algae's can infest it leaving it tired looking. Pressure washing will help remove these mosses and algae's leaving your patio looking like brand new. Give our power washing technicians a call to arrange a visit.
Wooden Decking
Because decking is made from wood and is a living organism it requires regular maintenance such as power cleaning. Plants such as moss and algae can sometimes attack the surface of the wood which will leave your decking vulnerable to damage. Power washing will remove most of these plants that can cause these problems. With the regular power washing of your decking, the lifespan of your decking can be greatly increased.
Areas  covered include:
Annamoe, Arklow, Ashford, Aughrim, Avoca, Ballinaclash, Bray, Brittas Bay, Delgany, Enniskerry, Glendalough, Glenealy, Glenmalure, Gorey, Greystones, Hollywood, Kilcoole, Kilmacanogue, Kilmac, Kilpedder, Kilquade, Laragh, Newcastle, Newtownmountkennedy, Newtown,  Rathdrum, Rathnew, Redcross, Roundwood, Wicklow Town, Woodenbridge, Shankill, Dun Laoghaire, Cabinteely, Killiney, Dalkey, Cornelscourt.