SELECT FOR PRICES
Testimonials
We have used CSI a number of times for cleaning our house. It is great to have them come in, clean the house and leave it smelling fresh and clean. We get a good clean done about twice a year and will keep on doing it.
- Emily -Newtown
Window Cleaning
1 Comment
Price/Cost for window cleaning
Standard 3 bed from €25
Standard 4 bed from €35
We use our water not yours
For window cleaning on larger properties please contact us
Solar panel cleaning -let us know the size of your solar panel and we will get back to you
Conservatory window cleaning -please contact us
Don't put your insurance at risk. We use no ladders for window cleaning because of our high reach pole system.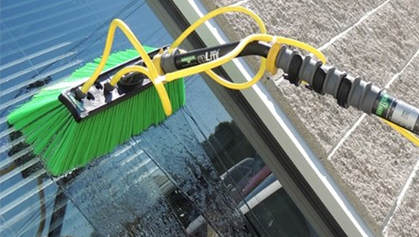 Here at Complete Services Ireland we use a relatively new technology called Ladderless Window Cleaning or what a lot of window cleaners working in the industry often refer to as a Waterfed Pole Window Cleaning System. This method for cleaning windows has many distinct advantages over the conventional method of using a bucket and ladder to clean windows. You will find your regular window cleaner here.
What is a Waterfed Pole Window Cleaning System?
CSI uses DI water to clean windows with poles that have a brush head on the end of them. This water is fed through the center of the pole to the brush head to reach the window. Our window cleaners use telescopic poles and can clean windows up to a 4 story building. When you clean your windows with normal tap/rain water, the water used will contain many impurities which will ultimately lead to streaks on your window after you wash them.
CSI will find for you a professional window cleaner in Wicklow, Bray, Arklow, Greystones and surrounding areas.
There are two methods of removing the impurities from the water before attempting to clean a window.
The first method is the use of Pure Deionised Water, also known as DI water. This is achieved when the water is put through the deionisation process where special resins are used to remove many of the impurities and thus leaving "Pure Water". When a window cleaner uses this DI water it acts like a magnet to remove dirt during window cleaning which will leave your windows cleaner and streak free.
The second method of producing DI water for cleaning windows is Reverse Osmosis or RO for short. This differs from the first method in that instead of using resins it uses a serious of filters and membranes to produce the quality of water required by a window cleaner. We won't go into further detail on this or this will turn into a Science lesson!!!! Because of the hard water that is common in the Dublin, Wicklow and Wexford areas, the RO method is the most common used by window cleaners.
What are the advantages of using a Waterfed Pole Window Cleaning System?
We do not use any harsh chemicals in this window cleaning process which is better for our environment.
You get your window frames and window sills cleaned for free at the same time
No ladders are used so the risk of injury to the window cleaner is greatly reduced
As there is no requirement during window cleaning for the window cleaner to walk on roofs or other parts of the building there is less risk of damage to your property
Windows that are not normally accessible such as over extensions and conservatories can be cleaned regularly
Your windows stay cleaner for longer because of the non use of chemicals
Last of all the window cleaning results using clean water give far superior results to previous methods of window cleaning. Therefore your windows are cleaner and stay cleaner for longer!!!!!!!!!!
Contact CSI for your window cleaning needs in Wicklow, Greystones, Arklow, Bray, Wexford and Dublin.
Conservatory Cleaning
Because of the design of most conservatories having slanted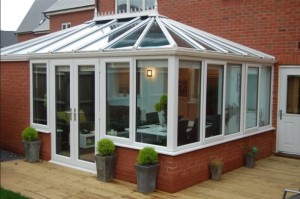 windows on the roof, it tends to attract a lot of algae, moss, dirt and other unwanted particles. This can leave your conservatory windows looking very unsightly and neglected. With a thorough cleaning our cleaners can restore any conservatory to its former glory. You will find our conservatory window cleaners second to none. As with our window cleaning service, for cleaning your conservatory we will use our specialised pure waterfed pole system to clean the glass on you conservatory. With this window cleaning system we use telescopic cleaning poles which can reach the awkward areas of a conservatory without the need to use ladders. This ensures the safety of our window cleaners and also you the customer while we do not require to position ourselves directly over the conservatory windows there is no risk of falling through the conservatory glass. If you choose to use a conservatory cleaner who does access the windows from above, you are running the risk of them falling through a panel of glass which could lead to a serious injury and could also effect your house insurance not to mention costly repairs for replacing the damaged windows.
Never use a power washer to clean the windows on a conservatory. The pressure applied from a power washer could easily damage the seals between the frames and the window and when this happens moss and algae will eventually make its way under the window seal where it will lift it even further causing leaks in your conservatory roof. Professional window cleaning is the best solution.

More and more conservatories are being manufactured with polycarbonate windows instead of glass windows. This requires our window cleaner to use more caution while window cleaning. As polycarbonate windows are made from a clear plastic it means that they are much more susceptible to scratches than glass windows. This window cleaning process takes more care. Also some conservatories have not been cleaned for many years where all of the deposits of moss and algae on the windows are well established and can be very stubborn to remove. In this case we may have to use detergents to loosen the deposits on the windows but be assured all of the window cleaning detergents we use are eco friendly and won't harm the environment. When you contact our window cleaners please inform them if there is a build up of material on the conservatory windows, this will help them assess the best solution that fits the cleaning of your conservatory windows. We can also clean the gutters of your conservatory and keep them free from leaves and other debris. If your gutters are left uncleaned a large build up of matter can cause a gutter to collapse which will require the intervention of a professional gutter replacement company.
Why should you get your conservatory windows cleaned?
-on your windows moss and algae can build up especially if you live near high trees
-your conservatory will have an old look about it
-with deposits of matter on the conservatory windows a certain amount of sunlight will be blocked
-we all know what neighbours and visitors think. When they see a dirty conservatory they will automatically think that your conservatory windows are being neglected.
How often should you get your conservatory windows cleaned?
-most people will get the external windows on their conservatory cleaned on average twice a year. Once in the Autumn and then again after the Winter
-Depending on how often you use your conservatory the internal windows should require a clean around once every 12 months but more often if circumstances dictate.
Areas covered for window cleaning include:
Annamoe, Arklow, Ashford, Aughrim, Avoca, Ballinaclash, Bray, Brittas Bay, Delgany, Enniskerry, Glendalough, Glenealy, Glenmalure, Gorey, Greystones, Hollywood, Kilcoole, Kilmacanogue, Kilmac, Kilpedder, Kilquade, Laragh, Newcastle, Newtownmountkennedy, Newtown,  Rathdrum, Rathnew, Redcross, Roundwood, Wicklow Town, Woodenbridge, Shankill, Dun Laoghaire, Cabinteely, Killiney, Dalkey, Foxrock, Cornelscourt.